Hello Treasures and Happy Monday!! So it's been awhile since I have done a Make Up Monday post so I decided to get in on this fun again.
I am a make up junkie. I like to buy buy buy a lot of make up just because. Why do I say just because well because on most days, you will catch me without make up especially at work. I try to get better at it but thus far it hasn't happened but everyday is a new day so I buy make up to keep the hope alive that I will wear make up daily. Ok well moving on....
I am also an
Avon Lady ,
"Your Avon Girl". I sell Avon and Mark and you can shop with me anytime, on my
Avon/Mark website
and you can stay up to date by liking
Mrs. Aguila's AVON and MARK Shop
on Facebook and also follow me on Instagram
@mrsaguila09.
I share a lot of photos* of the great products Avon and Mark have to offer.
Here is a sample of what I share. These are some items available from Avon. Photo reposted from @AvonInsider's Instagram.
From this photo I have tried the Mega Effects Mascara and you can read about it
here
and read Maria-Isabel of Agape Love Designs review
HERE
. I also have the eyeshadow quad, Super Shock Eyeliners and the
Mark Chic Frills Blush
.
This lace blush is so beautiful. Who needs beautiful packaging when you have a beautiful product like this one.
Mark. has so many great products that I feel get overlooked and I want to change that. You can go to my website and browse through the Mark.girl ebrochure.
Go to
http://victoriaaguila.avonrepresentative.com/
and click on Shop my brochure tab and click on cover of the brochure to view and order.
Another beautiful piece I recently had to order from mark. is the
Mark. Blooming Pretty Highlighting Face Powder
Here is another photo of some of the beautiful items Mark has to offer including this highlighter.
I ordered these last month but haven't shared on here (I just have so much to share)
Pictured below are
mark Primed for Perfection Face Primer
, mark Please Hold Eye Primer,
mark Snap To It Mid
that holds four mark I-Mark Wet/Dry Eye Shadow, 22 reformulated shades to choose from.
Since it's Monday and this post is about Make Up and it's been forever since I have done so, I am linking up here: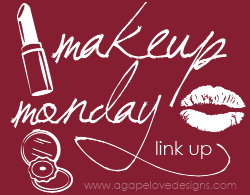 ~~Disclosure~~
Even though I am an Avon/Mark representative and I do make money if you order from my website, I am also a customer and buy and use these products. All opinions and information I share are my honest opinions.
*Disclosure: Some photos are taken by me with my Nokia Lumia 920 phone and some photos are from Avon and Mark Girl's social media.